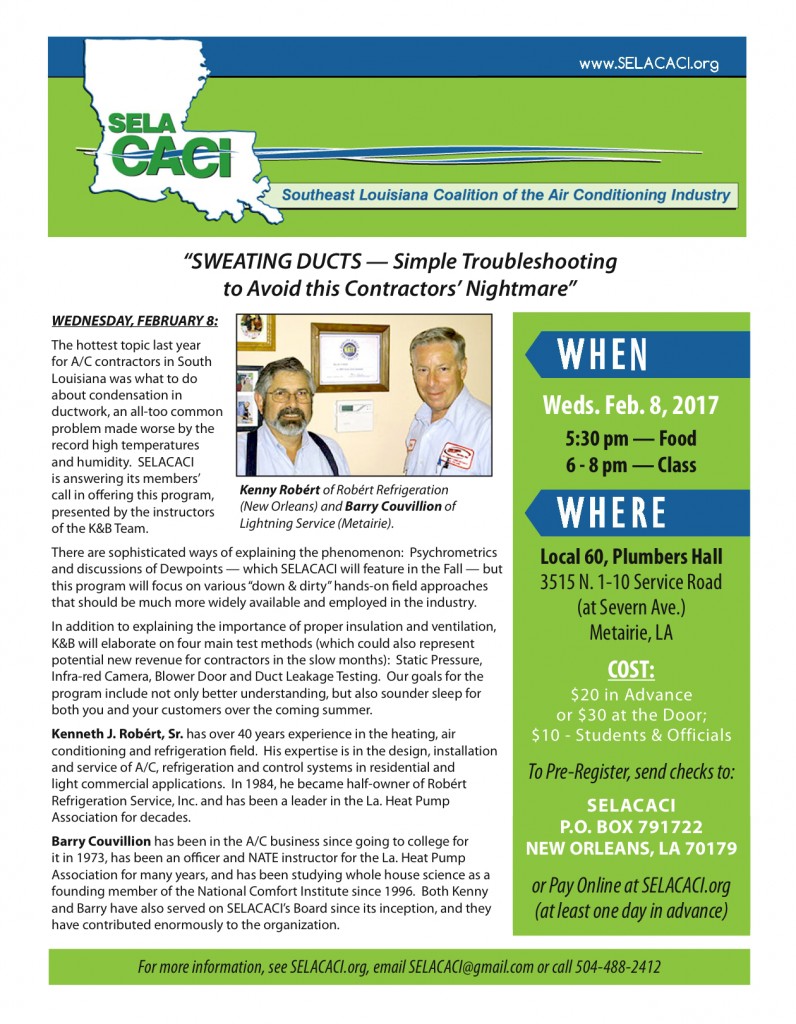 WHEN:  Weds.,  Feb. 8, 2017 — 5:30 pm – Food / 6-8 – Program
WHERE:  Local 60 – Plumbers Hall, 3515 N. I-10 Service Rd W (at Severn Ave.), Metairie
Please note:  Advance registration on-line is $20 (plus a $1.49 processing fee) until midnight the day before the event.  Students and Code Officials can register for $10 (plus a $1.24 processing fee).
Payment will only be taken at the door on the day of the event.  The price is $30 on the day of the event — by cash, check, or credit card.
If you would prefer to register in advance by mail, please send a check for $20 to SELACACI, P.O. Box 791722, New Orleans, LA 70179.
Code Officials & Home Inspectors can use CEU credits from SELACACI programs as applicable for their professional purposes.  Builders, architects, insulation contractors & others are always welcome.  Please help us spread the word so that these volunteer-organized programs can have maximum educational impact.

Report on Nov. 15 Training in the December LA-MS HVAC Insider: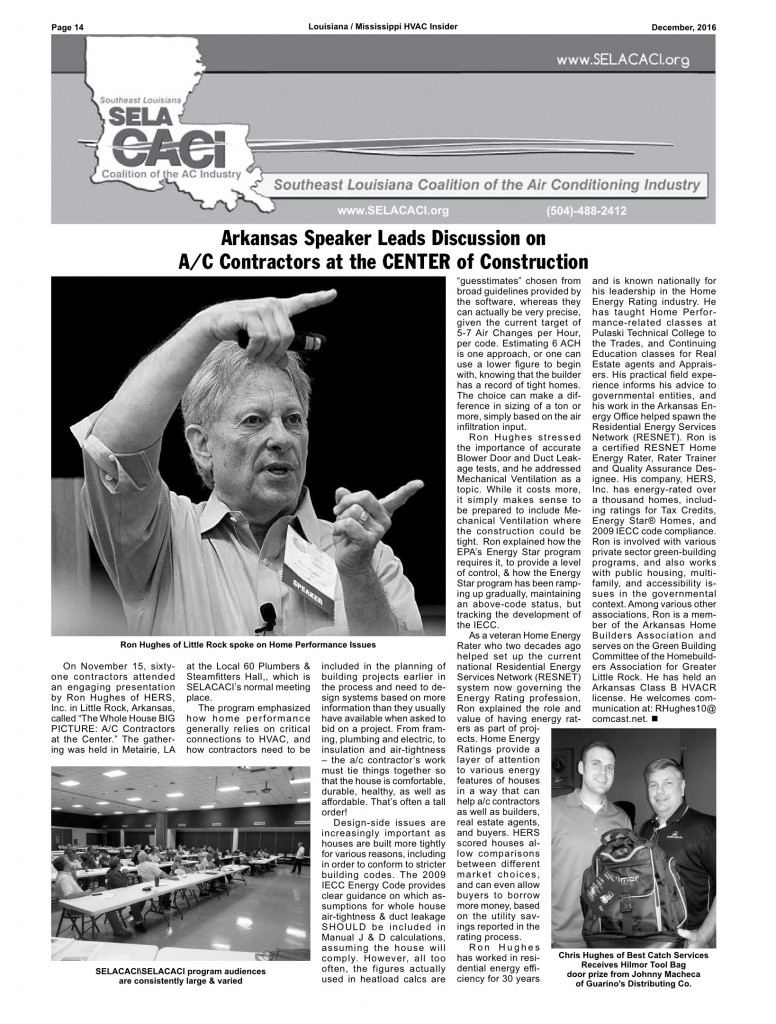 SELACACI Holds Monthly Heatload Workshops
Tues.,  Feb. 7, 2017  —  In order to provide a way for HVAC contractors to learn skills using heatload software and to improve sizing calculations, SELACACI has been hosting monthly gatherings on this subject.
Tentatively scheduled for Delgado Community College's Jefferson Campus, 5200 Blair Dr., Metairie (off Airline Hwy. west of Transcontinental), Building B, Room 2.
Personalized orientation, skill-development, and problem-solving involving Computerized Heatload Analysis.  This is a regular event held on the First Tuesday of every month.  Free help & advice — Take advantage of this while it's available!
The next Heatload Workshop will be on Tuesday, Feb. 7 at 5 p.m.
If you're new to computerized heatload analysis, the workshop will offer orientation.  If you want to develop your skills further, you'll be in good company.
Each month, these networking sessions have grown more popular.  Given the competitive nature of the industry and the  investment of time necessary for contractors to properly go through all the steps of Manual J (A/C Sizing) & D (Duct Sizing) & S (Equipment Selection), it's critical for technicians to understand the various steps in the process and to know to what degree shortcuts may or may not be acceptable — to avoid problems with the actual installation.
This effort is not meant to take the place of heatload software training courses, but rather to provide an ongoing forum for the exchange of information, promoting maximum productivity.  Come & Bring Your Hard Questions!
There is no charge for these informal meetings; they are not a "class" per se (but you might learn as much as in a class).  To receive monthly email confirmations of SELACACI's Heatload Workshops, join SELACACI's listserv if you're not already on it.
Thanks!

SELACACI's Board invites your input & ideas as it develops its programs for 2017.
Stay tuned to this website's Resources page for updates as more Parishes announce their implementation of the 2009 Energy Code provisions on duct testing, etc.