*** LaHouse Seminar Keep It Dry Dec. 12, 2019 ***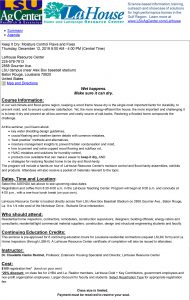 Keep It Dry: Moisture Control Flaws and Fixes
Dr. Claudette Hanks Reichel, Presenter
"In our wet climate and flood-prone region, keeping a wood frame house dry is the single most important factor in durability, to prevent mold, and to ensure customer satisfaction. Yet, the more energy-efficient the house, the more important and challenging it is to keep it dry and prevent an all-too-common and costly source of call-backs."
The seminar will include essential strategies and techniques to manage these challenges of home construction and will include a tour of the LaHouse exhibits.
Registration is required. Follow this link for event information, registration, and continuing education opportunities.
Thurs. Dec, 12, 2019  9:00 am – 4:00 pm
LaHouse Resource Center, LSU Campus, 2858 Gourrier Ave., Baton Rouge, LA 70820
www.lsuagcenter.com    225-578-7913

Monthly Heatload Workshops
SELACACI hosts monthly workshops on heatload analysis to provide a way for HVAC contractors to learn skills using heatload software and to improve sizing calculations.Learn more about these free workshops here.
There is no charge for these informal meetings; they are not a "class" per se but you might learn as much as in a class!
Summer 2019 Schedule
WHEN   First Mondays* of the Month, 5:30 – 7:30 p.m. 
WHERE   Delgado Community College's Jefferson Campus, 5200 Blair Dr., Metairie (off Airline Hwy. west of Transcontinental), Building B, Room 2.

SELACACI's Newsletter
To receive monthly email confirmations of SELACACI's Heatload Workshops, training programs, and other industry news bulletins, sign up for SELACACI's free newsletter.

SELACACI's Member Survey
SELACACI's Board invites input & ideas as it develops upcoming programs. Download our member survey to share your ideas for informative and interesting training opportunities with us.

SELACACI's Resource Page
Stay tuned to this website's Resources page for updates for Code changes pertinent to the HVAC industry generally.
Legislation Modifies Definition of Gas Fitting
In May 2018 the state legislature adopted a modified definition of gas fitting under the State Plumbing Board Statutes making clarifications relevant to licensed Louisiana State Licensing Board contractors (LSLBC). Learn more on SELACACI's resources page.